With the holidays quickly approaching, many of us will head to our favorite online shopping websites to buy some if not all our gifts. We may even be tempted to click an ad for a new up and coming eCommerce site advertising a crazy good deal. The question though is, will a good deal keep you on a website even if the page is too busy, you're barraged with popups, required to register to check out and no shipping options are shown?
Just like an in-person experience, will you stick around if the store is messy, the employees make you feel uncomfortable and then they ask you for personal information?
A great eCommerce experience, like any good shopping experience, will earn your trust with several positive factors including a beautiful design and the ability to view and shop to your heart's content.
Have you ever stopped to consider what makes a positive online eCommerce experience?
1. Great Design & User Experience
For any website, purposeful design and a strategic user experience is a must. With an eCommerce website, this is especially important as there is typically a greater volume of content as well as a larger variety of content displayed throughout the site than most websites. This may include product pages, category pages, review pages, shopping cart pages, account pages, and more creating dozens or hundreds of pages across the site.
The design should incorporate inviting colors and fonts. Leave whitespace that feels warm and welcoming. Use images that are professionally done and concise wording that doesn't bore the user. The goal is to create a design free of distraction and focused on displaying the product thoroughly and leading towards the "Add to Cart" button.
Make sure the site is mobile friendly with responsive web design. This ensures that the experience is as enjoyable as possible for any potential customer whether they're on their smartphone or a large desktop computer monitor.  Check out this past blog post to learn more about responsive design.
 2. Fast Load Times
Search engines reward websites with fast load times and positive user experiences. Guess what? So do customers. Consumers are demanding near instant gratification when it comes to website loading times and, if the page takes too long to load, your potential customer will often move on to find a faster website elsewhere.
Unoptimized, high resolution images that are loaded improperly, too many plugins and scripts, and slow servers are some of the main culprits.
To gain insights of a sites' load speed, there are many websites like Web Page Test or web browser plugins like Page Speed from Google.
 3. Rich Content
Creating a website around products means using well written and rich media content to sell those products. Buyers have grown to expect organized shopping categories, brands, product descriptions (including sizes, colors, dimensions, weight or other descriptors), photos and video. Make sure options, price and availability are also included and clear to the user. If reviews are allowed, make sure the page design allows the user to find the reviews easily.
Here's an example of a product page we developed for a recent eCommerce client Seraphina & Co. Notice how easy and accessible this rich content as well as modifiers for your purchase are.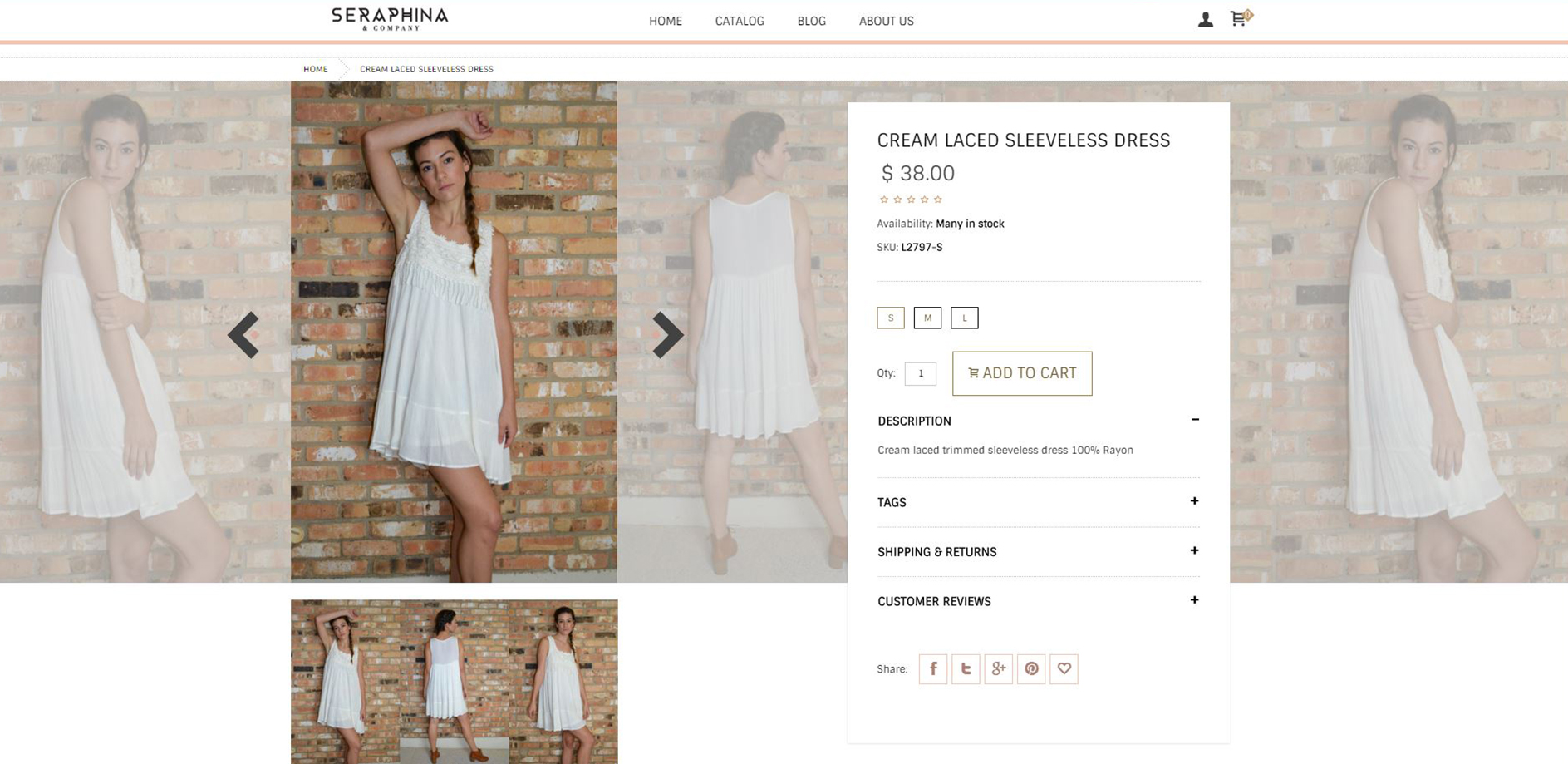 4. Purchasing Ease
A burdensome checkout process is a great idea if you're not interested in profits. There are few key parts to this process and related features that will ensure potential customers become happy customers.
An obvious "Add to Cart" button or link is an absolute must for any eCommerce website. This is typically positioned at the very top of each webpage.
Be purposeful with the design of the product page so that the option to buy is very clear to the user. An indication that a new item has been added to the shopping cart let's the user know they successfully added the product and hints at the next step which is to "checkout."
On the Cart page itself, allow the customer to add, delete or modify their order. Give the customer several purchasing options such as entering a coupon code, using a credit card, financing, PayPal or possibly an e-check. Then, notify the buyer that the purchase is complete and send them a confirmation email with their purchasing details.
The fewer steps involved and the easier it is for the user to interact with your shop, the more likely the customer will complete the sale.
5. Shipping & Return Options
Another selling point to shopping on certain eCommerce websites are their shipping options. Zappos is famous for their free shipping and returns. Offering the availability of free or discounted shipping may be exactly what you need to convert a user into a customer on your eCommerce site.
Be transparent with your shipping and return information by being clear and concise, while providing as many opportunities to keep the customer informed. This could be done with a frequently asked questions page,  links to policies in the footer, visibility of the options on each product page and including the information before and after checkout.
6. Account Options
Allowing a customer to create an account is an effective way to save and share data. Behind a login, a customer can have access to their order history, payment information, tracking of shipments, access to specials and coupons and perhaps even wish lists.
For many eCommerce site's, a one-click buying option possible if the user has allowed their payment information to be recorded, has improved the user's experience with a faster purchase while building customer loyalty for the online store.
For the website owner, this information may also be helpful to follow up with the customer if they've abandoned items in their cart or to send out promotions based on purchase habits.
7. Social Connection
Customers are not always aware of the benefits in creating a personalized account with the website and will often not want to if for no other reason than it takes time. They may however prefer a one-click account setup by using their social media accounts to register and/or connect. Today it's increasingly common to register customers with their Facebook accounts, saving customers the time and hassle of creating another username and password to keep track of.
Providing access to social share buttons with each of your products invites your customers to share the items they love with friends, family, and everyone who's connected to their social profiles. Using social media integrated with your eCommerce website can result in free advertising as well as way for you to reach out and communicate with the customers who are sharing your products.
Giving your customers as many social share options available with your eCommerce brand can lead to more brand awareness, visits to your eCommerce website, and ultimately conversions.
8. Building Trust
For some time now the cost of shipping and handling has had great influence on shopping cart abandonment, however fear is another notable contributor. Even though more consumers are willing to shop online while at home or on the go, the threat of identity theft is a very real concern. Highlighting your website's security and privacy policy helps reassure customers that you will keep their data safe to the best of your ability. We have most of our clients create a privacy policy using Shopify's easy to use generator.
Another way to compel customers to purchase from your online store is to have readily available customer care or customer service. If a user has more questions, gets stuck in the purchasing process or has a concern about a product, an online chat service or quickly answered customer service line will give them peace of mind. In the past we've had success engaging visitors on our site and capturing leads using services like Olark and Pure Chat.
9. Search & Results
If a customer is looking for something in particular on your website, offering an easy way to search for the product will keep them on your page longer. Keep in mind the design of the results page as well. If the search results are not displayed in a user-friendly manner, the customer may get frustrated and click away.
If more evidence is needed to support the importance of search on your eCommerce site, look no further than Amazon.com. In this article from InternetRetailer.com, you can see the evolution of the Amazon search bar showing how much larger and more powerful it has become over the years.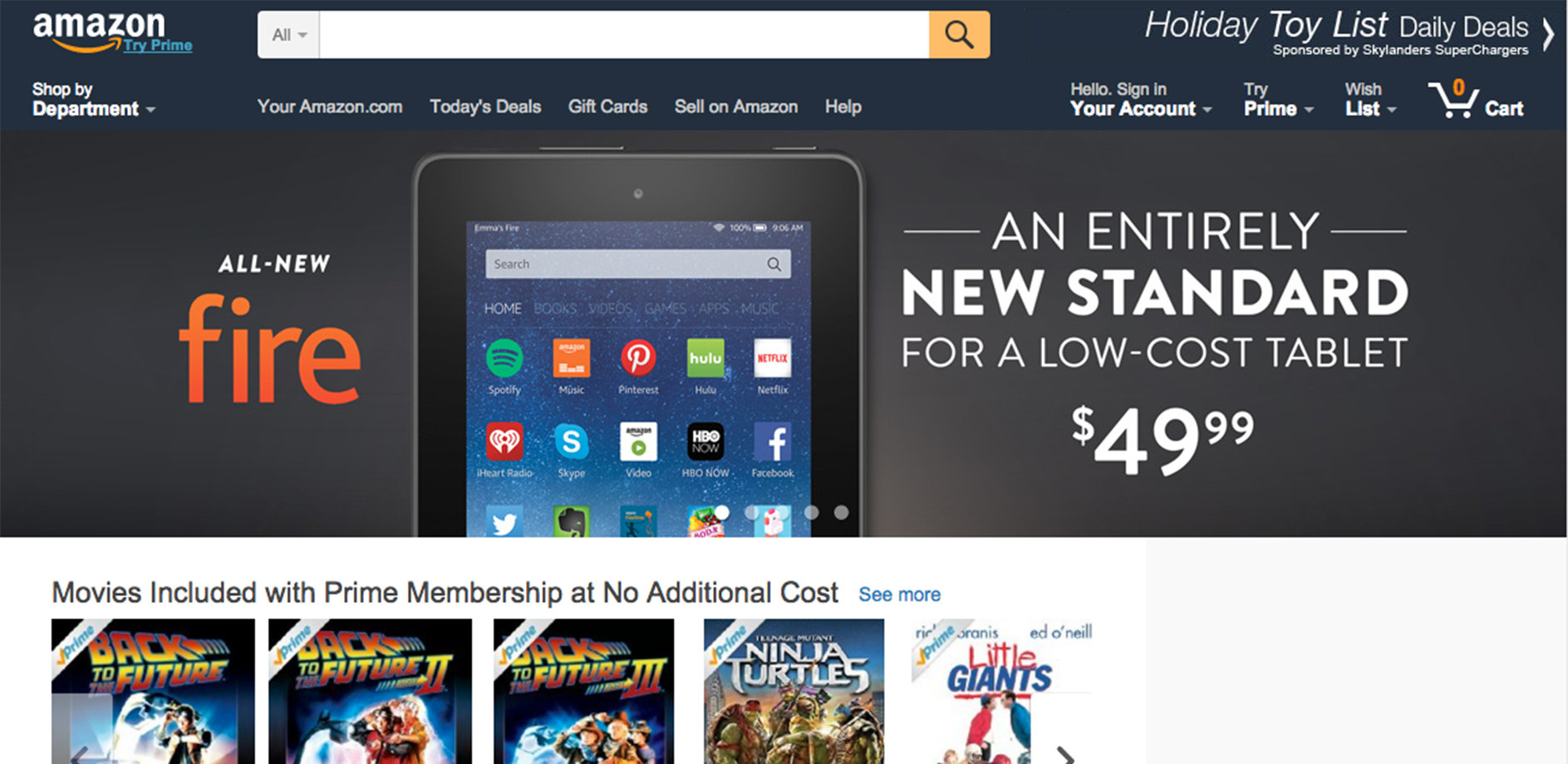 10. SEO
You may be wondering, how will people find my online store? Which brings us to the topic of Search Engine Optimization! If you're new to this concept, this video does a good job of explaining what SEO is and how it works. Also, please update your marketing plan immediately.
Stepping up your SEO game will help potential customers find you online from possibly your greatest source of web traffic, search engines Google, Bing, and Yahoo. A little different in reference to user experience but is part of the overall online purchasing user experience if you take into account the very first online interaction a buyer takes (finding a product) to  finalizing the transaction on your site.
To make sure your site performs well and is up to SEO standards, use these tips:
Create unique descriptions of your products with keywords
Implement product reviews
Regularly check your pages for errors
Update your blog regularly to add more content to your site
Use meta tags, pages titles, Header tags, alt tags and descriptions on images
Make the site easily accessed with sitemaps and image sitemaps
Remember overall user experience and fast load times
Conclusion
An eCommerce website is definitely not a set it and forget it type of site. Selling products means considering all of the options that would be considered in a brick and mortar store… and then some. If you're considering an eCommerce website for your business, contact us at Square 205. You're closer to your first sale than you think.
Looking to learn more about eCommerce and improving conversion rates? Check out our partner's blog post here.